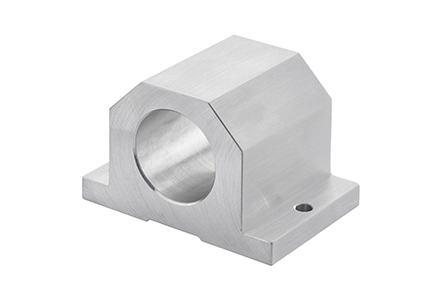 SR-AL 1222
SU.410.001222
Application
This element complements the SA-AL. It simplifies the use of the SFERAX ball bearings. The quality of the ball bearing is the customer's choice. 
Design
The plummer block for ball bearing SR-AL is made of aluminium and is ready for assembly. It is delivered with or without ball bearings and seals.
Precision
The parallelism between the fixing base and the bore is guaranteed to ± 0,01 mm, depending on the quality of the ball bearing.
| | |
| --- | --- |
| Product Number | SU.410.001222 |
| Width | 51 mm |
| Height | 32 mm |
| Volume | 66912 |
| Product Designation | SR-AL 1222 |
| Net Weight | 85 g |
| Outer diameter D | 0 |
| Inner diameter d | 0 |
| Length | 41 mm |
| Dynamic factor Y | 0.000000 |
| Inner Diameter (outside bearing) D | 22 |
| Diameter screw slot V | 4.5 |
| Center distance screw Y | 43 |
| Height H | 32 |
| Height base F | 6 |
| Height center X | 17.5 |
| Width C | 35 |
| Width A | 51 |
| Length B | 41 |
| Material | Alu |
| Inner diameter (Ø shaft) d | 12 |