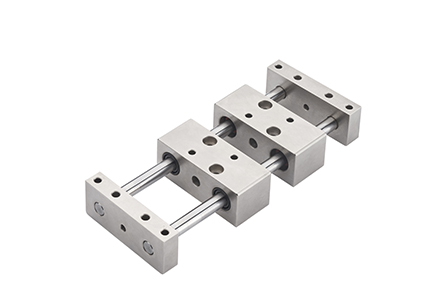 ES 4060
EL.10.04060
Application
The ES is designed to facilitate the use of the linear ball bearing. The obtainable stroke depends on the allowed deflection of the shafts with respect to their length, to their diameter and to the  considered load, as well as the relative position of the elements composing on it.
It can be used with mobile shafts (according to drawings), or with fixed ones. These elements
are manufactured for shafts with a diameter from 6 to 80 mm.
Design
The ball-bearing supports and shaft supports are made of grey cast iron, ground on all sides.
Precision
The distance between the shafts is constant within 5 μ m. The parallelism between the fixing bases and the shafts is guaranteed to 10 μ m, according to the quality of the chosen shafts and ball bearings.
 
| | |
| --- | --- |
| Product Number | EL.10.04060 |
| Product Designation | ES 4060 |
| Outer diameter D | 0 |
| Inner diameter d | 0 |
| Dynamic factor Y | 0.000000 |
| Diameter pins PB G | 8 |
| Diameter Counterbore W | 15 |
| Diameter screw slot V | 8.5 |
| Diameter frontal hole PB t | 6 |
| Diameter frontal hole PR T | 12 |
| Diameter shaft hole d | 40 |
| Diameter bearing holes D | 60 |
| Difference height PB-PR Y | 2 |
| Center distance pin PB A | 164 |
| Center distance shaft holes C | 110 |
| Center distance screw PB B | 54 |
| Center distance srew-pins (width) PR N | 34 |
| Center distance srew-pins (length) PR M | 56 |
| Height F | 82 |
| Total height unit H | 84 |
| Height shaft holes K | 42 |
| Width L | 190 |
| Length bar holder PB | 30 |
| Length bearing holder PR | 92 |
| Material | GG |
| Depth Counterbore U | 10 |