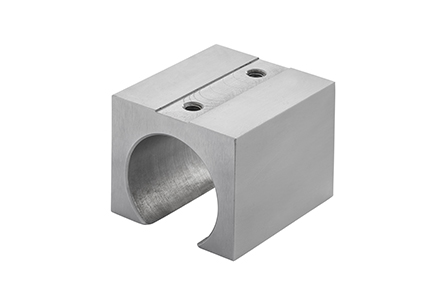 SR-OUV 4060
SU.110.004060
Application
The SR-OUV makes an interesting combination with SFERAX OUV, and allows play to be adjusted. The SR-OUV is long enough to allow mounting 2 seals.
Design
Made of soft low carbon steel. Its design allows adjusting the shaft's play by locking more or less tightly. During factory assembly, the bearing is bonded into position. The base is ground.
Surface Treatments
All our elements can be supplied with surface treatments i.e. hard chrome, chemi-black, etc... Please note that these finishes can cause tolerance deformations and modifications.
| | |
| --- | --- |
| Product Number | SU.110.004060 |
| Width | 79 mm |
| Height | 66 mm |
| Volume | 479688 |
| Product Designation | SR-OUV 4060 |
| Net Weight | 1765 g |
| Outer diameter D | 0 |
| Inner diameter d | 40 |
| Length | 92 mm |
| Dynamic factor Y | 0.000000 |
| Dimension threading U | M8 |
| Spacing screw Y | 64 |
| Height center X +/-0.01 | 40 |
| Height S | 66 |
| Width central clearance P | 37 |
| Width N | 79 |
| Length R | 92 |
| Material | AC |
| Inner diameter D | 60 |