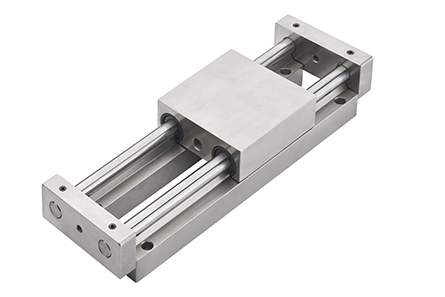 ES-OUV-COMPACT 1222 B
EL.40.01222.10
Application
The use of the ES-OUV-COMPACT is justified when shaft deflection is not allowed. Its advantage over the ES-OUV is the reduced height. The plummer blocks for the end shafts allow different drive elements such as ballscrews, hydraulic or pneumatic to be mounted.
Manufacturing
The parts of the ES-OUV-COMPACT are made of grey cast iron. The fixing base and the table are ground. The standard model is delivered without ball screws or bellows.
The indications given in the chart on page 83 refer to a standard assembly with rolled ball screws.
(Precision of the ball screw is 0.1/300 mm).
| | |
| --- | --- |
| Product Number | EL.40.01222.10 |
| Product Designation | ES-OUV-COMPACT 1222 B |
| Outer diameter D | 0 |
| Inner diameter d | 0 |
| Dynamic factor Y | 0.000000 |
| Stroke | 265 |
| Diameter cap bearing K | 33 |
| Diameter Counterbore W | 8 |
| Diameter screw slot plummer block V | 4.5 |
| Diameter shaft hole PB d | 12 |
| Center distance shaft bracket Y | 20 |
| Center distance shaft holes C | 50 |
| Center distance bearing holes in height X | 30 |
| Height F | 19.5 |
| Total height unit H | 48 |
| Width L | 80 |
| Width shaft bracket A | 30 |
| Material | GG |
| Depth Counterbore U | 6 |
| Screw | M12X5 |
| Internal Remark | 12 |