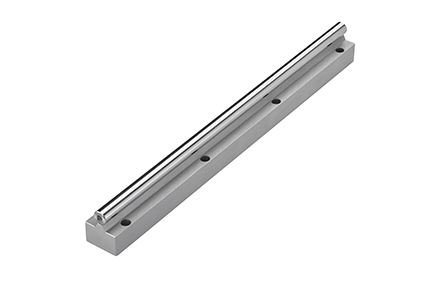 SA-OUV 6090 B x 45 mm
SU.620.006090.045.10
Application
The SA-OUV is used in all constructions which do not allow any shaft deflection. It is necessary for all long stroke applications.
Design
Made of cast iron and in principle finished and assembled with a shaft of Quality lll or lll R.
The set can be delivered in theoretically unlimited lengths.
Precision
The parallelism between the fixing bases X & C and the shaft is guaranteed to ± 0,01 mm on 500 mm for the A quality. For the B quality, only the X dimension is guaranteed to ± 0,01 mm.
| | |
| --- | --- |
| Product Number | SU.620.006090.045.10 |
| Width | 120 mm |
| Height | 54 mm |
| Volume | 291600 |
| Product Designation | SA-OUV 6090 B x 45 mm |
| Net Weight | 1664.1 g |
| Outer diameter D | 0 |
| Inner diameter d | 0 |
| Length | 45 mm |
| Dynamic factor Y | 0.000000 |
| Diameter shaft d | 60 |
| Diameter Counterbore u | 17 |
| Diameter screw slot block fixation V | 10.5 |
| Diameter screw slot block fixation V1 | 10.4 |
| Spacing screw Y | 82.5 |
| Height F | 39.5 |
| Height center X +/-0.01 | 80 |
| Width A | 120 |
| Material | GG |
| Precision class | B |
| Depth Counterbore W | 11 |